---
Nov. 21, 2023
Contact: Bryce Blumenthal, 360-249-4628, ext. 232
Media contact: Bridget Mire, 564-224-0845
WDFW approves six days of coastal razor clam digs starting Nov. 24
Considers alternative digging schedule for Copalis and Mocrocks beaches in 2024
OLYMPIA – Once you've had your fill of turkey, post-Thanksgiving razor clams will be ready to dig beginning Nov. 24, Washington Department of Fish and Wildlife (WDFW) coastal shellfish managers confirmed today.
Not all beaches are open for every dig, so diggers are encouraged to make sure their intended destination is open before heading out.
"By luck of the draw, the tide charts have aligned to allow for some nice sunset low tides starting Friday of the Thanksgiving holiday weekend," said Bryce Blumenthal, a WDFW coastal shellfish biologist
Optimal digging occurs between one and two hours before the listed time of low tide. The following digs during afternoon and evening low tides (noon to midnight only) will proceed as scheduled, after marine toxin results from the Washington State Department of Health (DOH) showed razor clams are safe to eat:
Nov. 24, Friday, 4:18 p.m.; 0.0 feet; Long Beach, Twin Harbors, Copalis
Nov. 25, Saturday, 5:05 p.m.; -0.7 feet; Long Beach, Twin Harbors, Mocrocks
Nov. 26, Sunday, 5:49 p.m.; -1.2 feet; Long Beach, Twin Harbors, Copalis
Nov. 27, Monday, 6:31 p.m.; -1.3 feet; Long Beach, Twin Harbors, Mocrocks
Nov. 28, Tuesday, 7:12 p.m.; -1.2 feet; Long Beach, Twin Harbors, Copalis
Nov. 29, Wednesday, 7:52 p.m.; -0.8 feet; Mocrocks
The DOH requires test samples for marine toxins, and domoic acid levels must fall under the guideline level before a beach can open for digging. Domoic acid, a natural toxin produced by certain types of marine algae, can be harmful or fatal if consumed in sufficient quantities. More information about domoic acid, as well as current levels at ocean beaches, can be found on WDFW's domoic acid webpage.
Final approval of marine toxin testing usually occurs about a week or less – sometimes two to three days – before the start of each digging series. Below are additional tentative dates:
Dec. 13, Wednesday, 6:55 p.m.; -1.3 feet; Long Beach, Twin Harbors, Mocrocks
Dec. 14, Thursday, 7:39 p.m.; -1.3 feet; Long Beach, Twin Harbors, Copalis
Dec. 15, Friday, 8:25 p.m.; -1.2 feet; Long Beach, Twin Harbors, Mocrocks
Dec. 16, Saturday, 9:12 p.m.; -0.8 feet; Long Beach, Twin Harbors, Copalis
Dec. 17, Sunday, 10:01 p.m.; -0.3 feet; Long Beach, Twin Harbors, Mocrocks
Dec. 26, Tuesday, 6:18 p.m.; -0.9 feet; Long Beach, Twin Harbors, Copalis
Dec. 27, Wednesday, 6:57 p.m.; -0.8 feet; Long Beach, Twin Harbors, Mocrocks
Dec. 28, Thursday, 7:35 p.m.; -0.6 feet; Long Beach, Twin Harbors, Copalis
Dec. 29, Friday, 8:11 p.m.; -0.3 feet; Long Beach, Twin Harbors, Mocrocks
On all open beaches, the daily limit is 15 clams per person. Each digger's clams must be kept in a separate container, and all diggers must keep the first 15 clams they dig, regardless of size or condition, to prevent waste. It's not unusual to encounter some small clams, especially in the early part of the season.
All diggers 15 or older must have an applicable fishing license to harvest razor clams on any beach. Licenses can be purchased from WDFW's licensing website, and from hundreds of license vendors around the state. WDFW recommends buying your license before visiting coastal beach communities.
Proposed digging schedule
WDFW shellfish managers are considering an alternative digging schedule for Copalis and Mocrocks beaches beginning in 2024. The proposed change would open each beach for multiple days rather than alternating openings between areas every other day. For example, during a four-day tide series, Mocrocks would be open Friday and Saturday and Copalis would be open Sunday and Monday. Proposed dates would provide consecutive open dates on each beach in a way that spreads digging opportunity evenly.
The approach to offering consecutive open days may reduce confusion as to which beach is open, create more digging opportunity when only one beach is available for harvest, allow for increased digging success due to beach familiarity, and reduce travel to and from open beaches. Tentative digging dates for January and February will be announced in early December.
The updated 2023-24 Razor Clam Management Plan is available on the WDFW website. Reference additional razor clam information on the WDFW razor clam webpage.
The Washington Department of Fish and Wildlife works to preserve, protect, and perpetuate fish, wildlife and ecosystems while providing sustainable fish and wildlife recreational and commercial opportunities.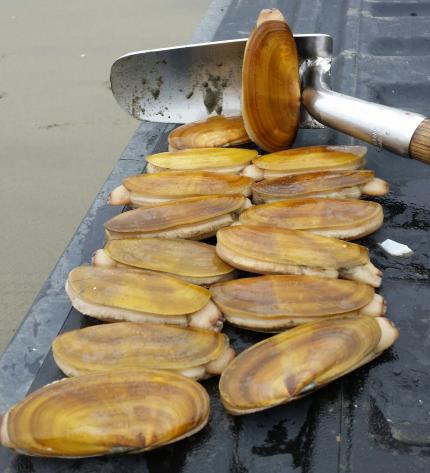 Photo by Zach Forster
---
King Tides
Stay Safe During King Tides in Washington State
As the king tides approach, we urge everyone to enjoy the spectacle responsibly:
Keep Your Distance: These tides can be stunning, but they're also powerful. Watch from a safe spot, especially at spots like Cape Disappointment State Park.
Respect the Power of the Ocean: Steer clear of closed areas and be vigilant of sneaker waves—these giants can come unexpectedly!
Plan Your Visit: Check weather and wave forecasts to pick a safe day for tide watching.
Remember: Today's king tides give us a glimpse into the future of rising sea levels.
Enjoy the view, capture the moments, but above all, stay safe!
Remember, NEVER TURN YOUR BACK ON THE OCEAN!!
For more information on King Tides, visit the University of Washington's King Tides Program at https://conta.cc/40OTrEA
---
WDFW has information on public areas designated for shellfish harvesting. One of those areas is the Nahcotta Tidelands known for harvesting oysters. Here are links for more information on what is open and what licenses is needed.
Click here for Nahcotta Tidelands season information
---
Clamming is a great family activity but caution is always advised when you are on the beach. Watch out for sneaker waves, stay away from logs in or at the water's edge, keep your eye on the tide and drench all beach fires dead out before leaving. The dunes are off-limits to foot and vehicle traffic. All beach approaches have public restrooms and please pack your trash out with you. Approximately 6 miles of beach on the north end of the peninsula may be closed to traffic at various times during the year – please follow all posted directions regarding these closures.
Clamming Checklist
A Shellfish/Seaweed License is required for harvesting razor clams and must be in the harvester's immediate possession and available for inspection during harvest and transport. Everyone claiming a limit must actively participate in the harvesting process, unless they possess a disability permit.
Call the Biotoxin Hotline at 1-800-562-5632 before harvesting shellfish anywhere in Washington State.
The first fifteen razor clams regardless of size or condition must be retained. One daily limit of fresh shellfish may be in possession. Razor clams may not be returned to the beach. For razor clams, holes do not have to be refilled as is required for hardshell clam digging.
Razor clams may be taken by hand, hand-operated shovel, or tube (clam gun) with a minimum outside diameter of 4″ or (4″ x 3″ if elliptical). Each digger must use a separate container, but may share digging equipment.
For more detailed information visit https://wdfw.wa.gov/fishing
Vehicle Information
It is illegal to drive any vehicle, or lead or ride a horse on the clam beds. You must stay on the upper "hard-sand area". Pressure from the weight of the vehicles or digging action of horses' hooves cause clam mortality.
There are 7 beach approaches for vehicles along the peninsula. Starting from the north end, they are:
Oysterville Road
Bay Avenue
Klipsan Beach (south of 227th)
Cranberry Road
Bolstad Road
Sid Snyder Road
Seaview (at 38th Street)
Local Places to Buy a Shellfishing License
JACKS COUNTRY STORE
26006 Highway 103
Ocean Park, WA 98640
(360) 665-4988
DENNIS COMPANY #1
2nd and Pacific ST
Long Beach, WA 98631
(360) 642-3166
SEAVIEW MOBIL STATION
3909 Pacific Highway, Seaview, WA
(360) 642-4023
PIONEER MARKET
2006 N Pacific Hwy 103
Long Beach, WA 98631
(360) 642-4004
CHINOOK COUNTRY STORE
775 HWY 101
Chinook, WA 98614
(360) 870-7310
ILWACO FOOD MARKET
108 SPRUCE ST. W
Ilwaco, WA 98624
(360) 642-2413
For a complete list places selling clamming licenses in Pacific County
Visit https://wdfw.wa.gov/licenses/dealers?name=&city=&county=65
BUY ONLINE
Licenses may be purchased online at https://fishhunt.dfw.wa.gov/login
Children under the age of 15 do not need a razor clam license.
---
Razor Clam Recipes
If you have a recipe you would like to share, please email it to opchamber@opwa.com
Be sure to provide your name so we can post who contributed the recipe
Creamy Clam Chowder Recipe
If you've successfully cleaned some razor clams and are looking for a delightful way to enjoy them, consider making a creamy clam chowder. This recipe serves 6–8 people and is perfect for a cozy dinner with family or friends.
Ingredients For the Chowder:
4 cups cleaned and chopped razor clams (You can also use canned clams if fresh aren't available)
4 cups clam juice (or chicken broth as a substitute)
4 cups whole milk
1 cup heavy cream
4 medium potatoes, peeled and diced
1 large onion, finely chopped
2-3 cloves garlic, minced
4 slices bacon, chopped
2 stalks celery, chopped
2 carrots, peeled and chopped
1 teaspoon thyme (fresh or dried)
Salt and pepper to taste
2 tablespoons olive oil
For Roux (Thickening Agent):
4 tablespoons butter
4 tablespoons all-purpose flour
Instructions
Step 1: Prepare the Clams
If you're using fresh razor clams, make sure they are cleaned thoroughly before chopping them into small pieces.
Step 2: Cook the Bacon and Vegetables
In a large pot, add the chopped bacon and cook over medium heat until it turns crispy.
Remove the bacon and set it aside, leaving the grease in the pot.
Add 2 tablespoons of olive oil to the pot.
Add the onions, garlic, celery, and carrots to the pot and sauté until the onions are translucent.
Step 3: Prepare the Roux
In a separate pan, melt 4 tablespoons of butter over low heat.
Add 4 tablespoons of flour to the melted butter and whisk continuously until it forms a smooth paste.
Cook the roux for 2–3 minutes, making sure it doesn't brown.
Step 4: Combine and Simmer
Add the diced potatoes and thyme to the pot with the sautéed vegetables.
Pour in the clam juice or chicken broth.
Add the roux to the pot and stir well to combine.
Bring the mixture to a gentle boil, then reduce the heat and let it simmer until the potatoes are tender, about 15–20 minutes.
Step 5: Add the Clams and Dairy
Add the chopped clams to the pot.
Pour in the whole milk and heavy cream.
Stir well and allow the chowder to simmer for an additional 10–15 minutes. Be careful not to let it boil to prevent the dairy from curdling.
Step 6: Season and Serve
Add salt and pepper to taste.
Add the cooked bacon back into the chowder for extra flavor (optional).
Serve hot, garnished with some chopped parsley or chives if desired.
Tips
If you'd like to add a smoky flavor, you can use smoked bacon.
Some people like to add a dash of hot sauce or paprika for a little kick.
This creamy clam chowder is rich, hearty, and incredibly satisfying. It's the perfect way to enjoy the fruits of your clam-cleaning labor. Bon appétit!
Lucille Downer's Taste of the Peninsula: Clam Fritters
With clam season going strong, here's Lucille Downer's popular recipe for clam fritters, which we first published about two decades ago. Lucille and her husband Jack were the founders of Jack's Country Store in Ocean Park.
2 cups ground clams
1 cup biscuit mix
2 tablespoons minced parsley
1/2 teaspoon thyme
1/2 teaspoon sage (if desired)
2 eggs, beaten.
Enough milk to make the right consistency
2 tablespoons oil
Salt and pepper
Stir all together mixing well. Refrigerate for about an hour. Put heaping tablespoonfuls into frying pan with hot shortening. Flatten each with the back of the spoon. Brown on both sides.